A business course that speaks at the right executive level. That only speaks about data in terms of how they add value; how you can grow your business. Where you can Learn from the Leaders.
About the course
"Next Level of Innovation in the Age of Data" focuses on the central role of Data in insurance innovation and will help insurance executives gain a new perspective on the impact of data on the future of insurance.
This course will provide participants with a new type of online experience, focused on brief presentations with lots of interaction. The course includes a range of real use cases from compelling speakers and companies, providing participants with the opportunity to engage directly with the presenters.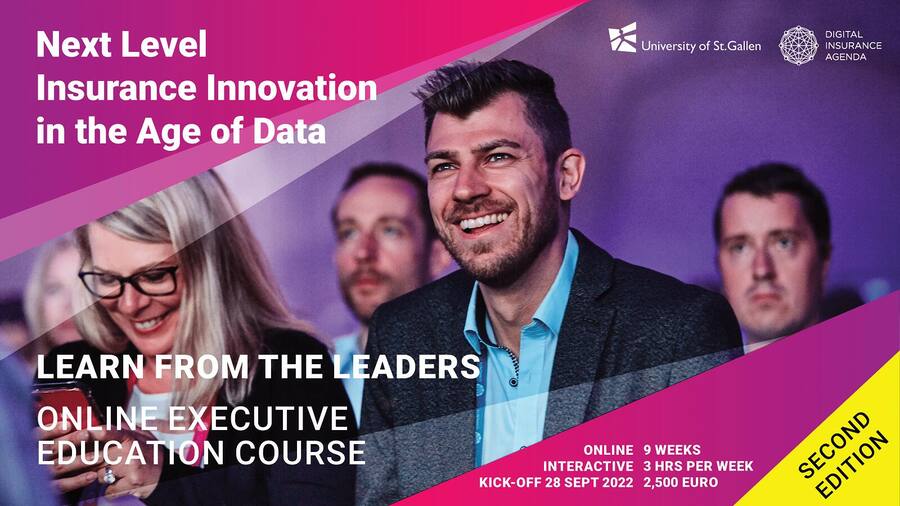 Learn from the Leaders – Course overview
By combining Digital Insurance Agenda and the University of St. Gallen Institute of Insurance Economics' specific expertise, this online executive education course offers a unique combination of academic rigor, research and insights with the latest advanced insurtech practices from across the globe; strategic and actionable – and in engaging formats. A truly unique combination of the latest in academic foundational thinking with practical examples from insurtech leaders, insurance executives and thoughtleaders.
Next to our main lecturers Roger Peverelli from Digital Insurance Agenda and the professors Alexander Braun, Oliver Gassmann and Christian Hildebrand from the University of St.Gallen, we have a great line-up of guest lecturers:
Module 1: Data is THE Game Changer of the Next Decade of Insurance
Guest Lecturers: Simon Kaesler (McKinsey), Jonathan Larsen (Ping An)
Module 2: Data Analytics for Insurance Executives
Guest Lecturers: Felix Wenzel (ERGO)
Module 3: Transforming the Insurance Value Chain
Guest Lecturers: Jeppe Klausen (Penni.io), Jeroen Morrenhof (FRISS)
Module 4: Customer Excellence in Insurance in the Age of Data
Guest Lecturers: Jeff Kreisler (JP Morgan)
Module 5: Data-Driven Service Engineering in Insurance
Guest Lecturers: Andre Nepgen (Vitality)
Module 6: Business Model Innovation in the Age of Data
Guest Lecturers: Marcel van Brenk (EY VODW), Andrien lebegue (ZhongAn)
Module 7: The Role of Data in Digital Ecosystems
Guest Lecturers: Curtis Scott (Lyft)
Module 8: Talent and Culture in the Future in Insurance
Guest Lecturers: Hiek van der Scheer (Aegon)
Module 9: Thinking Beyond Tomorrow. What's Next in the Age of Data
Guest lecturers: Craig O'Kane (Everledger), Francesca Bria (United Nations)
Registration is now open
The course kicks off on September 28, 2022. Classes are online, 3 hours per week, conveniently scheduled at the end of the workdays. There will be ample time for interactive Q&A and discussion sessions to develop key takeaways that participants can directly apply in their companies.
Fun little extra: We also offer meeting your fellow course participants at DIA Munich 2022 against a reduced price!
Interested in joining this course? Email Imke from Digital Insurance agenda to request the course brochure.
Further information can be found online here: www.digitalinsuranceagenda.com